WEBSITES FOR REALTORS
Build a path to success for your real estate business
Your real estate practice is unique in its goals and expertise. You need a digital marketing partner who can understand your vision and translate it into an effective website. We have the experience and the expertise to take you from where you are to where you want to be.
WE'RE WITH YOU THE WHOLE WAY
We take care of your online marketing so you can focus on providing excellent service to your clients.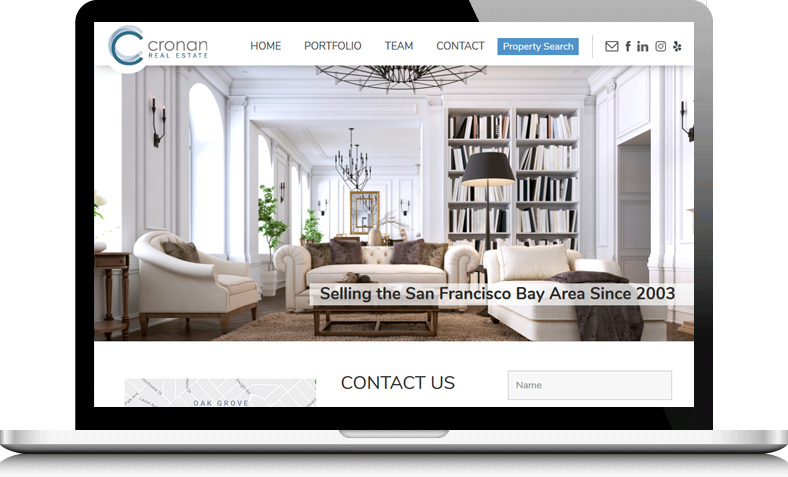 WEBSITE THAT REFLECTS YOUR BRAND
We build a website with your real estate business in mind so you can attract the right clients.
GROW YOUR PRACTICE
Use the latest technology to serve your clients better and get an edge on your competition.
GET FOUND ONLINE
Once your website is up, we get you in front of property buyers and sellers with SEO, PPC, and social media.
Features that real estate agents need
Use our expertise to take you to the next level
Every real estate practice is different with different set of goals, values, and expertise. You need a strong online presence to set yourself apart from your competition. We are experts at that! We can create you a website that highlights your brand together with an intuitive navigation.
Depending on your needs, we can craft an online strategy for you that is also within your budget. Whether you wish to dominate your market or have modest goals, we can make sure that your dollars work hard at marketing your business.
Every part of your online work – brand, website, strategy, messaging – will all work towards presenting you as the best choice to your online visitors.
Hosting & Maintenance
Get a fast, secure, and reliable website with our hosting and regular software upgrades. Ask us about our hacker-proof plan.
Search Engine Optimization (SEO)
Move up in search results. We will identify your target audience and attract them to your website with organic SEO and PPC.
Online Marketing
Whether you need help with your social media or email marketing, we can work within your budget to help you establish goals, create a strategy, and make it happen.
Ready to get started?
Tell us about your real estate business and goals. We look forward to helping you get to the next level.
Our process
We work closely with you to set up your real estate website — quickly and efficiently — then put it to work for you bringing in new clients
Create a website that shows off your work and motivates buyers and sellers to get in touch.
DESIGN & BUILD
Move higher in search results and bring potential clients to your site.
GET FOUND ONLINE
Stay top-of-mind with your audience, cultivate new clients, and show your expertise.
EMAIL MARKETING
PROTECT
Keep your website functioning and secure with software updates and remote backups.
SOCIAL MEDIA
We'll determine the best social media channels for you and help you manage them.
Latest developments in
Online marketing for realtors