E-COMMERCE WEBSITES
Grow online sales across all devices
Connect your website with your chosen e-commerce platform, like Shopify. Then enable people to purchase your products over any device with a mobile-friendly website and increase your conversion rate.
WE'RE WITH YOU THE WHOLE WAY
We will build your website, connect it with your e-commerce shop, and help you be found online. Any special requests? Call us and we can customize a solution for you.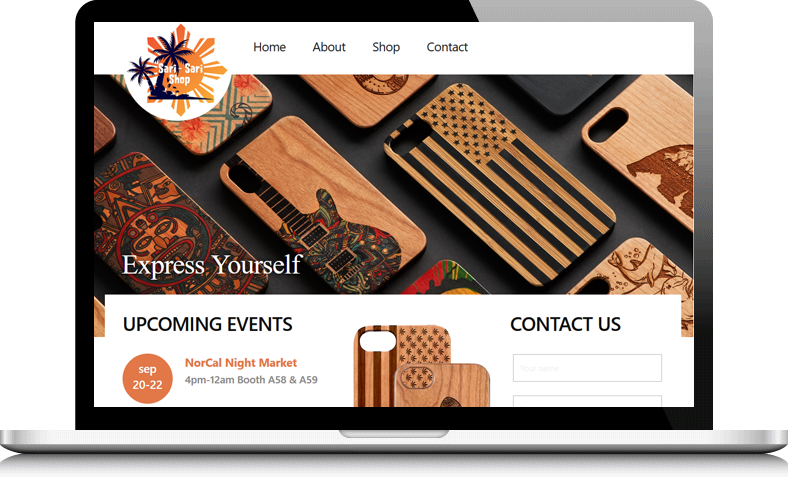 SELL YOUR PRODUCTS ON YOUR WEBSITE
Connect your e-commerce platform with your website. That way all the products on your e-commerce platform will seamlessly show up on your website making it easy for people to buy your products.
ACCEPT PAYMENTS ONLINE
We can help people buy your services online using your preferred payment processor. This is ideal for buying time with a tutor, aesthetician, yoga/pilates instructor, and such.
GET FOUND ON THE WEB
We can utilize SEO and PPC to bring people to your website. Don't know what these are? Call us. We will explain them to you and create a strategy for you in order to bring your products/services in front of people.
RETAILERS
WHOLESALERS
ACCEPT PAYMENTS ONLINE
Make it easy to buy from you
Increase visibility and sales
First impressions matter. When you make it easy for people to view your products and services online on all sorts of devices, you increase your reach to your target market. This increase in the visibility for your products or services will in turn increase your online sales.
As more brick-and-mortar stores move online, they need an effective online sales system and strategic online marketing.
Depending on your needs, we craft an online strategy for you that is also within your budget. Whether you wish to dominate your market or have modest goals, we make sure that your dollars work hard for your business.
Every part of your online work – brand, website, strategy, messaging, e-commerce shop – will all work towards presenting you as the best choice to your online visitors.
Show products on your website
Connect your website with your e-commerce shop and pull all the products into your website. This will make it easy for people to buy from your store.
Get found online
Optimize your e-commerce website for increase in organic search result visibility (SEO). Maximize traffic with PPC campaigns to increase conversions.
Reach people
We will help you establish your email marketing goals, create a strategy, and develop tactical steps to achieve these goals.
Ready to get started?
Tell us about your e-commerce business and goals. We look forward to helping you succeed online.
Latest developments in
Online marketing for e-commerce businesses